A well-known blockchain expert says one key sign points to a possibly bullish Bitcoin rise (BTC) this month.
Willie Wu Is Confident in BTC's Rise in Value
A well-known chain expert Willie Wu told his million Twitter followers that an analysis of Bitcoin's cost base points to a rise in the leading cryptocurrency's market value in June. The cost base is the amount of money investors put into a commodity when they first buy it. In the case of bitcoin, it is the amount of money investors put into bitcoin at the outset.
"The cost base analysis shows that the potential growth exceeds the likely decline. The summer months are usually neutral or negative. Still, historically every June that comes during the reaccumulation phase has been bullish, and we are in one of those windows right now. In June, bitcoin has an opportunity to rally. That opportunity won't come until a week from now. We'll see."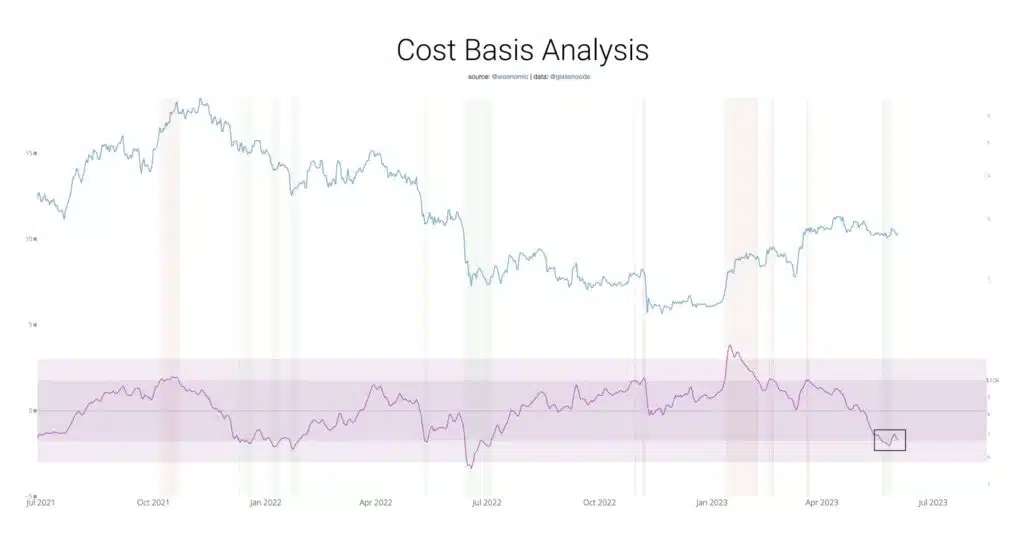 Glassnode's owners, Jan Happel, and Jan Allemann, say that efforts to shrink BTC now show that people are desperate. Instead, they argue, they should focus on altcoins AI and LSD, which have to do with versions of liquid steaming.
"It's a sign of desperation when you start looking for new reasons to short Bitcoin. It's much more productive to direct your attention to AI- and LSD-driven alts."
According to Alleman and Happel, Bitcoin Will Rise to $30000

According to an article in Swissblock, Alleman, and Happel believe the price of BTC will rise until it reaches $30,000. That will happen after the price stabilizes in the $26,000 to $27,500 range.
"Although there were many possible triggers, such as the U.S. debt ceiling settlement and big data releases, bitcoin could stay in the predicted range. At this point, we are headed back in a bullish direction.  We are still waiting for increased market participation and momentum to propel us toward the $30,000 target, even though market attitudes are now favorable to optimism and risk perception has declined."
As of this writing, bitcoin is trading at $27,093, a slight decline from the previous day.