Christopher Inks, a well-known crypto expert and trader, recently tweeted that he thinks Litecoin (LTC) will increase in value. His research shows that LTC is preparing for a significant price increase in the coming weeks. According to the post, the currency's value is set to meet the peak at around $400.
A Crypto Trader Gave His Prediction on LTC
According to the expert, if LTC broke through the $110 resistance level, it would show a bullish trend that could push the price to $129.441 in the coming weeks. As mentioned above, the person in question has said that the goal is close to the pivot zone of the original weekly resistance level. At the time of writing, the altcoin's market value is $92.52. This is a rise of 1.78% in the last 24 hours, according to data from CoinMarketCap.
The latest rise in the value of Litecoin has added to its already weekly solid price momentum, which has led to a total increase of 14.14 percent over the past week. Also, the asset above had an upward trend against the US Dollar, and against the two biggest cryptocurrencies, Bitcoin (BTC) and Ethereum (ETH), with gains of 1.28% and 1.76%, respectively, over the last 24 hours.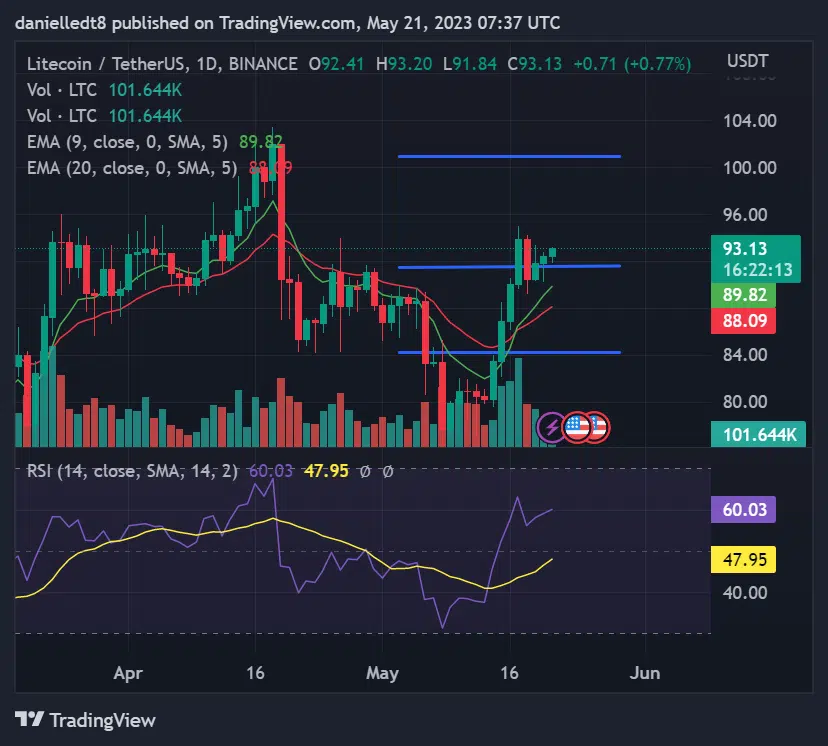 On Wednesday, LTC broke through resistance at $91.56 and ended the day at $93.88. On the next day, the altcoin fell to $90.43. Yesterday, the asset made an unexpected comeback, breaking through the $92.42 resistance level.
Further Dynamics of the Asset Will Become Clear in the Coming Days
How the price of LTC moves today will be a crucial indicator of whether or not it will go up in the next 24 to 48 hours. If the asset breaks through the $91.56 resistance level and stays above it, a positive trend is likely to start, which could push the price up to the $100.89 mark quickly. In a bearish situation, a breach of the $91.56 support level could put the altcoin at risk of falling toward the 20 EMA threshold, which is around $87.73.
If the price of LTC breaks through $94.89 in the next 48 hours, this will prove that the bullish theory is correct. On the other hand, if it goes over $91.56 during today's trading session, it could be an early sign that its value could go down toward the 20-day EMA line.