In 2009, a historic Reddit event occurred: a user posted the first topic about Bitcoin (BTC). The case was called "Bitcoin: an anonymous digital currency based on a peer-to-peer network." It marked the beginning of a new era in digital currencies. The topic contains a hyperlink to the Bitcoin page on SourceForge. It is a popular online platform that allows users to share their open-source initiatives and developments.
Not All Users Were Confident About Bitcoin's Future
According to Finbold, the post on Reddit garnered a total of 280 upvotes and 241 comments. Since Bitcoin's emergence, Reddit users' opinions have been divided. Some users honestly acknowledged its potential, while others questioned its security. They suspected that the state would be able to interfere with the cryptocurrency and ban transactions with it.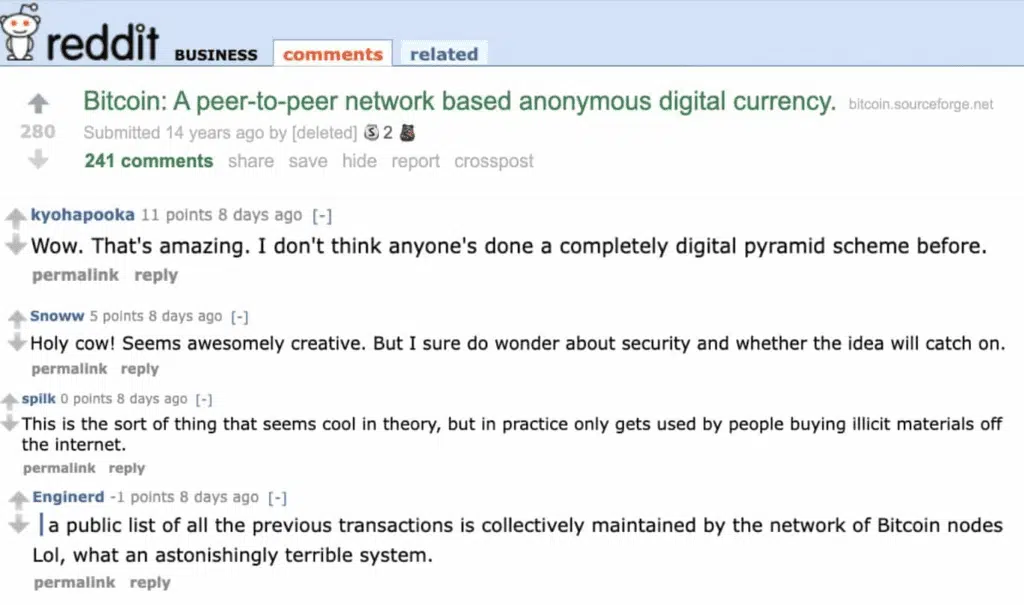 Just four months after Satoshi Nakamoto released the Bitcoin software, the first thread about Bitcoin was published on Reddit on May 8, 2009. It is now the users of this cryptocurrency who are the most wealthy in the world. In 2009, this was only a dream. It's hard to believe, but at the time, the value of the world's first cryptocurrency was less than one cent.
As of this writing, on May 10, 2023, one Bitcoin can be bought for $27,640. This suggests that the value of the cryptocurrency has risen by around $27,600 since its inception 14 years ago. All of this can be traced in the following graph:

Bitcoin has experienced many ups and downs in recent times. In 2010, bitcoin was traded for fiat currency for the first time. At the time, the cryptocurrency was valued at less than one penny. This started a meteoric rise in Bitcoin's popularity. Within a year, the digital currency had reached a level where its value was equivalent to that of the US dollar.
BTC Dropped Sharply After Its First Substantial Gain
In 2013, the first significant rise in Bitcoin began, bringing the cryptocurrency to a new all-time high of around USD 1,200 in December. In 2014, however, the bitcoin price fell sharply. It was only able to recoup lost ground in December 2017 seriously. At this time, BTC reached a new all-time high of $20,000. This historic event also took place in December of the same year. After just one year, the leading cryptocurrency experienced a significant price correction. This was evidenced by a sharp drop to the $3,200 level.
In 2020, bitcoin experienced another significant price spike, reaching $28,949 by the end of the year. The digital currency continued to rise throughout 2021, earning its all-time high of $68,789 in November 2021. What happened next, you probably know very well.