Profitrop Review
Conclusion
Profitrop is a fraudulent online trading platform that falsely claims to be based in the UK and offers a range of trading instruments, including forex currency pairs. Despite offering an attractive platform with advanced technology and tight spreads, the company is not licensed or regulated and has no functional trading platform, making it a scam.
Invest in Crypto With The Best Trading Platform
Profitrop.com Review

Just because you are eager to begin your online trading journey is no excuse for you to not do your homework when you are looking for a broker. Bear in mind that no two companies are equal and their features and services will vary. However, this is not the only difference that may exist, as the market is also rampant with scammers that disguise themselves as brokerages. These are the ones that you have to be wary of because they do an excellent job of hiding who they really are. This Profitrop review will show you how they go about it.
Profitrop Website: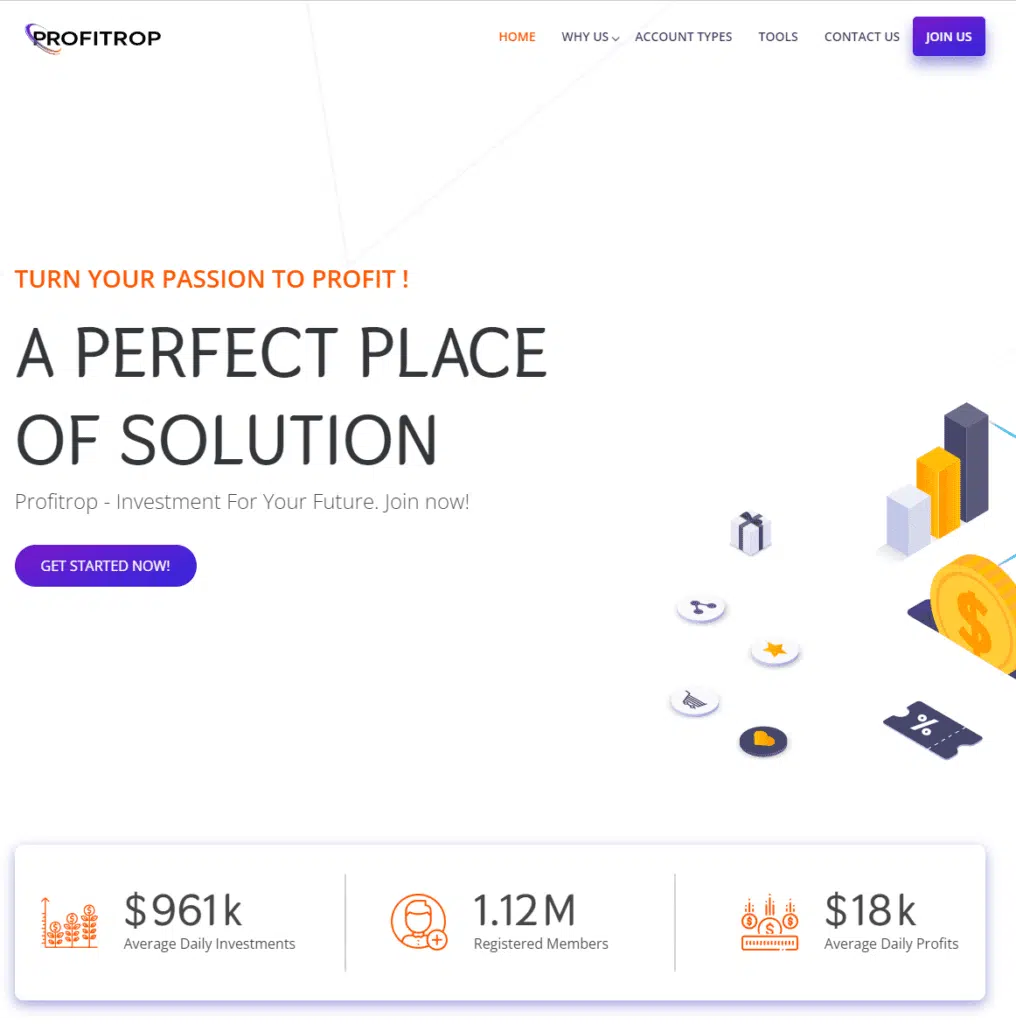 Appearances can be deceiving
It is a must to remember that appearances can be deceiving, especially on the internet where it is immensely easy for anyone to have a professional website. There are too many tools that can be used for crafting just the perfect website and many of the fraudulent platforms out there make use of them to lure people to their platform. You need to watch out for such companies and their attractive offerings because they deliberately promise features and offerings that are bound to catch your eye.
Moreover, when you are in a hurry to start trading online, you may not pay a lot of attention and this inattentiveness can come back to haunt you later when you realize that you have been trapped by a scam. You do not want to face the devastation that comes with it and the key to ensure it does not happen is to do your homework. This approach will benefit you in the case of Profitrop because even though it looks great on the surface, you need to avoid this company at all costs.
Presented as an award-winning brokerage based in the United Kingdom, Profitrop has advertised a wide range of trading instruments, including forex currency pairs, energy and soft commodities, precious metals, indices and shares. When you combine it with the MT5 platform and the tight spreads they promise, the offer can be hard to resist. But, when you do your homework, you will see that Profitrop is not what it appears. You will come across lots of reasons to avoid this broker, some of which are;
Not based in the UK
Doing your homework where a brokerage is concerned means following up on the information they provide on their website. The first place to begin is with their company information because you need to ensure that they are licensed and regulated. It would be foolish to use a brokerage that operates without a license because no legitimate company would ever do that. If they are genuine, they will have no problem in obtaining a license, especially when it can boost their reputation and earn the trust of their clientele.
The fact that Profitrop claims to be based in the UK is undoubtedly impressive, given that it is considered a well-regulated market. Its regulatory body is the Financial Conduct Authority (FCA), which is one of the most renowned authorities in the world. They have very strict requirements that online brokers have to meet before they can offer their services. But, when you check their online register, you are going to be disappointed because Profitrop is nowhere to be found.
This means that the address that Profitrop has mentioned on its website has absolutely no credibility. It gets worse because you will discover that instead of a license, the FCA has issued a warning about Profitrop because it seems to be operating illegally in the UK. The warning states that Profitrop is providing its services to people without a license and this is all the reason you need to avoid this company altogether.
False trading platform claims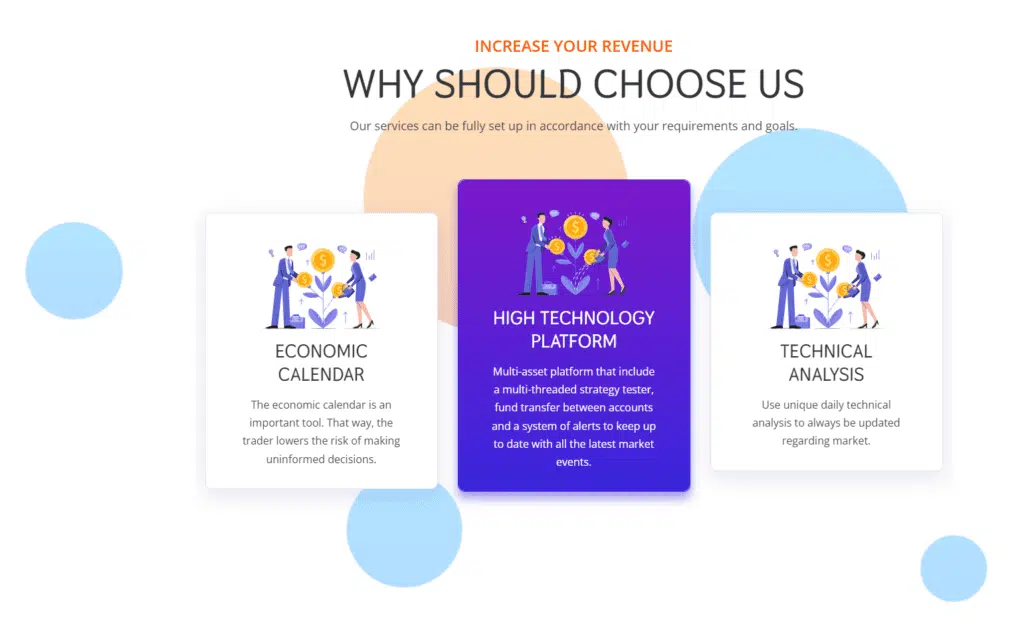 Your trading performance is connected with the trading platform you use for executing your trades. The technology determines how quickly you can execute the transactions and the tools help you perform accurate analysis for making smart decisions. There are numerous platforms in the market and the one you are offered is at the discretion of the broker. The fact that Profitrop offers the MT5 trading platform, which has become the industry-standard due to its advanced technology and powerful trading tools is one of its biggest draws.
Unfortunately, once you register yourself with Profitrop, you will find that this is yet another empty promise because there is no MT5 trading platform. As a matter of fact, there does not seem to be a functional trading platform at all, which means you cannot do trading of any kind. The only option the platform appears to have is that of making a deposit. This clearly indicates what Profitrop is really after i.e. your funds and this gives you another strong reason to avoid it.
Poor trading conditions
Making profits is the ultimate goal of anyone who decides to trade online and this will depend on the conditions you are offered by the broker you choose. While Profitrop does offer you tight spreads, it does not really matter given that there is no functional trading platform at all. Even if they have spreads starting at 0 pip, it cannot help you because you cannot trade at all.
As far as leverage is concerned, you will find that Profitrop offers you leverage as high as 1:100 and this shows that it does not operate in the UK because the FCA has imposed a cap on leverage of 1:30 for brokers in its jurisdictions.
Only crypto payments
Since you have to make deposits and withdrawals, the payment methods of a broker also need to be checked out. The fact that you are only permitted to make deposits in Bitcoins at Profitrop is also a reason to avoid this platform. Crypto payments are definitely a modern payment mode, but one that is not eligible for a chargeback.
You cannot get any refunds once you deposit at Profitrop and this is exactly what such fraudulent companies want. Plus, they also benefit from the anonymity that crypto can offer.
The Answer
These are some really strong reasons for you to avoid Profitrop when you are looking for a broker to begin online trading.