eToro Review
Conclusion
eToro is a social trading platform that allows users to invest in a wide range of financial instruments, including stocks, cryptocurrencies, and commodities. With eToro's intuitive interface, users can easily follow and copy the trades of top-performing traders. eToro also offers a range of educational resources and tools to help investors make informed decisions.
Invest in Crypto With The Best Trading Platform
eToro Review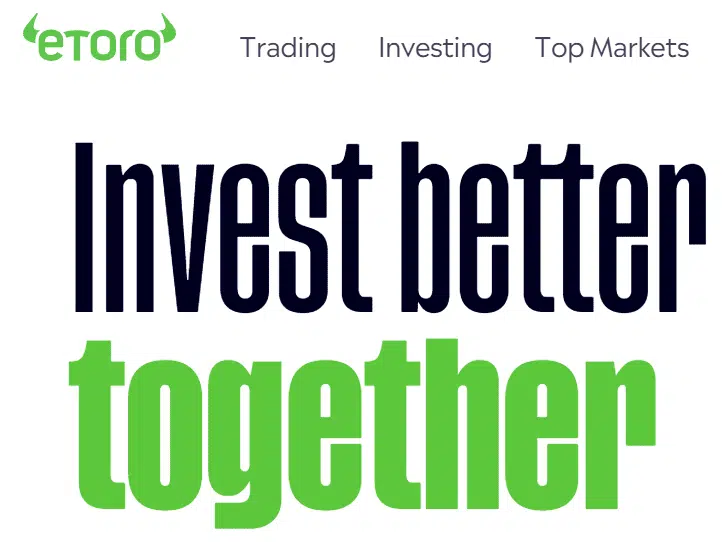 In this day and age, it's almost impossible to reach your financial goals without getting some help from your investments. Fortunately, the world of investments is no longer exclusive to rich executives with the resources to purchase expensive assets and wait for them to appreciate. Online trading platforms are offering ordinary people with the opportunity to get started and meet their investment goals. So, in this eToro review, I'll talk about how this platform provides users with great features that help them start investing.
While there are numerous online brokers available these days, it's not easy to determine which is the best for your needs. Considering the traction it has been gaining online, I decided to try out eToro broker and test its offerings. Let's have a look at what if offers new investors looking to kickstart their trading careers.
Learn The Basics With Informative Materials
New traders need to know their way around the platform before they can learn to enter different orders. Similarly, they should also know the fundamentals before they can come up with a simple strategy to use market conditions to their advantage. While there are plenty of sources of information on the web, few of them are reliable.
That's why eToro trading platform offers an entire library of materials for users to start building their knowledge. These guides are come in different mediums like videos for visual learners as well. They'll walk you through the basics of market phenomenon, trading terminology, and other similar concepts.
Put Your Skills to The Test
When you have zero trading or investment experience, it can feel a bit daunting when you enter that first order. After all, you have no idea what will happen or how the platform works – the only way to understand it is through experience. Of course, you can't afford to use up your deposit just to learn your way around the platform.
To help users grow familiar with the trading process, eToro broker has a realistic demo account. The account acts as a simulation of real-life market conditions. You even get fake currency that you can use to place an order and see how platform responds. It gives you an engaging and immersive experience that builds your confidence before you start trading. Once you've learned how to use the platform, the demo account comes in handy to test out your trading strategies.
Learn How to Conduct a Technical Analysis
Initially, it's common for new traders to enter simpler orders based on gut feelings or intuition. While it's not discouraged, trading experts don't recommend it as a long-term approach to trading. Rather, what should be practiced is strategy-building. The most objective way to build a strategy is to conduct a technical analysis.
It's an effective way to evaluate different investments and look for trading opportunities based on market trends. Not to mention, you can also use technical analysis to see if there are trading opportunities in other asset classes, like crypto trading. To help traders learn how to come up with a technical analysis, eToro trading platform has complete tutorials.
Monitor and Evaluate Your Trades
As you gain some trading experience, you'll learn that not all your trades give you the results you're looking for. Sure, that can be somewhat disheartening, but the important thing is to learn from your performance and try to replicate what works while avoiding what doesn't. To help you do that, the eToro broker platform lets users monitor and track their performance.
By evaluating their performance over a specific period of time, traders can see whether their best trades occurred during specific market conditions or not. Similarly, they can understand if certain market events or shifts led to lucrative trades or not.
Is eToro Scam or Legit?
While going over the various features of the platform for the eToro review, here's what I thought was quite impressive. Firstly, I liked how there were different account options. That meant users didn't have to pay for features they didn't need. Also, the availability of multiple payment options is a plus because it ensures convenient deposits and withdrawals. The focus on user experience is definitely a plus, and proves that eToro trading platform is legit.
Bottom Line
To conclude the eToro review, let's do a recap of what I've covered so far. First things first, it's an impressive online platform that's designed to kickstart your trading career. To help users navigate through the platform and understand the features, it has a library of informative materials. Once you learn how to build your own strategy, you can practice it using the realistic demo mode. After you start building your skills, the tutorials on technical analysis can help enhance their complexity. As you make more trades, you can even monitor your progress to see how well you perform.